Situated in the Seattle neighborhood of Magnolia, the goal was to create a modern spacious home with lots of light – a classic yet modern feel, all while managing a limited budget. Economy of structure and materials was exercised.
HOW TO TRANSFORM A LIMITED BUDGET
A TIGHT DESIGN: The house is laid out on a grid. Structure, materials, windows and casework meticulously align to create a harmonious space.
FOCAL POINTS: The large grid windows transform the house inside and out and provide high-impact street appeal. The large marble slab at the kitchen wall is illuminated, becoming a dramatic backdrop visible from inside and out.
The project was a transformative journey from a spec built budget to a luminous design.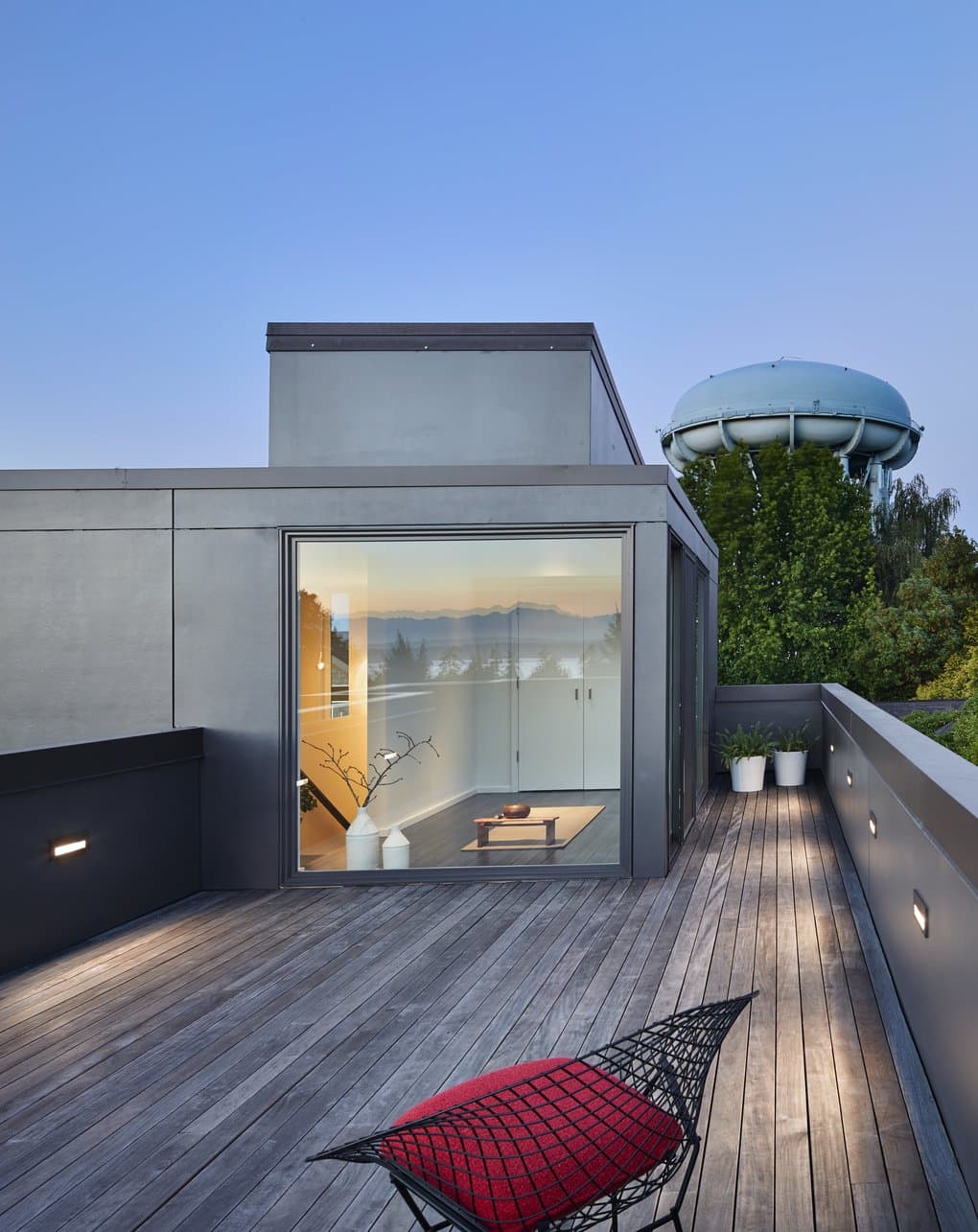 WITH A MODEST BUDGET, CHOOSE SELECTIVELY
"With a modest budget you choose selectively. It's like an outfit, Prada shoes and a gap t-shirt is just fine… you do not need all Prada."
On landscape
LAYERS OF PRIVACY: Large windows, and a home close to the street challenge privacy and diminish the entry experience. Strategic, layered landscaping offers both privacy and an appealing entry. On the first level up from the street, plant a cottage garden with lots of tumbled yellow with the formal yews of the second terrace a backdrop to the yellow and an entry to the private court. Both views, from the house and the street, are reframed.
Houses need breathing room, but a tight urban lot with minimal set-backs is challenging. The dining room is in the center of the home, its window tight to the neighbor's blue house and fence. The solution? CREATE a compelling view. Set a white wall outside a large window as a backdrop with a sculptural tree in front, lit at night. This brings the outside in and gives breathing room to the center of the house. The dining experience now has a dramatic extension into borrowed space.